Tenerife winter 1994
---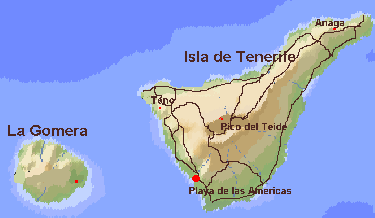 ---
Note: Click on the thumbnails to access the beautiful bigger pictures!
---
I visited Tenerife in december 1994 for two weeks. The weather was fine. In Holland it was freezing, but on the island it was hot, 27 degrees but windy. We have stayed in a apartment in Playa de las Americas. From there we made a lot of trips by bike. I have no experience with hotels or B&B, but the island is small enough to get to almost every place. We have cycled totally 1400 km, without getting bored. There are a lot of beautiful climbs. Tenerife is really an eldorado for mountain goats, without a flat kilometer. The highest mountain of Spain is situated in Tenerife, the Pico de Teide (altitude 3700m+). This volcano dominates the island. The landscape is formed by this volcano and it is amazingly beautiful. There are a thousand different colours and the lava streams are impressive. You cannot reach the top by bike. The highest point you can reach is about 2400 meter. There are about four different routes to get to this point and they are all very nice, but heavy (from sealevel to 2400m in about 40 kilometers). It is not a very steep climb but 40 km is very long.
The Teide climb from Vilaflor
Boca de Tauce, The Teide climb from Vilaflor
Las Canadas, lava streams inside the crate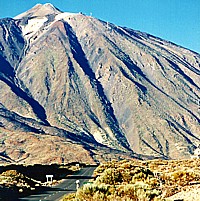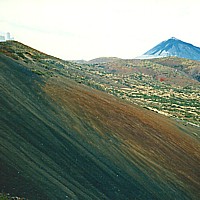 Roques de Garcia and the Pico del Teide
Pico del Teide, 3718 meter
The Teide climb from Orotava

Although the Teide is dominating the island, there is much more to see. There is a lot of variation in the nature. In the south region it is very dry, with the climate and vegetation of a desert with cactuses and a strong wind.
The northern region is rather wet with a lot of forests. There are two mountain ranges which are very different from the Teide area, the Teno mountains and the Anaga mountains. Although it is not very high (max 1300 meter) these regions have a lot of very steep climbs and hairpins.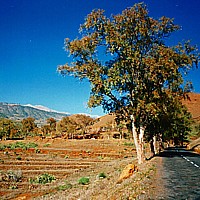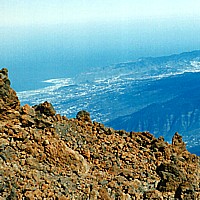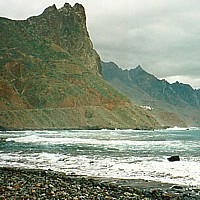 Granadilla: The dry south
Puerto de la Cruz: The coast in the north
Anaga: The hairpins at San Andres
Monte de las Mercedes
The steep cliffs of Taganana

The climb from the north coast to Masca is one of the steepest climbs I have ever cycled. It looks like one of the steepest in climbs in the Dolomites (Drei Zinnen).
Also very nice but rather small is the island Gomera. We made one day trip by boat to this island. The vegetation is subtropical with rain forests and deep canyons.
This trip was rather cheap. We booked a last minute trip for two weeks including the apartment and flight for about 800 guilders (2400 FF). The airport is difficult to reach and is only accessible by a freeway. For two days we have rented a car to see the Anaga mountain area on the other side of the island. And if you are getting tired of the mountains you can use the touristic facilities like beaches and disco's... :-p

---
© 1997 Luddo Oh

---